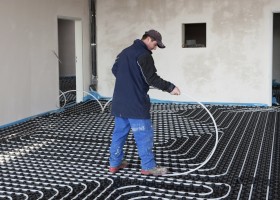 New advancements in HVAC technology have made the process for heating and cooling homes more convenient, more efficient and just generally cooler (or warmer). Below are some of the best new advancements in HVAC technology that will make your home much more comfortable.
Smartphone-Controlled Heating and Cooling
With energy costs on the rise in every facet of our lives, using your thermostat only when you absolutely need to is critical for keeping your electric bills as low as possible. The only way to do this is by switching your thermostat off or to low whenever you don't need it, which means you'd always have to be home. However, thanks to new HVAC technology, heating and cooling can be controlled from your smartphone, allowing you to shut down your residential HVAC system when you leave the house and turn it back on when you are headed back home, so it can get going before you walk in the door. This is even more efficient for Connecticut businesses that are using commercial HVACs, as owners will be able to control their energy costs from their phones as opposed to relying on an employee to remember to turn everything on and off. A lifetime of Internet connectivity through these thermostats requires only a small additional fee and will more than pay for itself in what you will save on electricity.
Nest Thermostats
Beyond the Universal Internet Thermostats, Nest Thermostats take the Residential HVAC technology and efficiency to the next level. Not only can temperatures be controlled and the system turned on or off via smartphones, but also weather updates around the house are given, and the systems also have the ability to specify what type of heating or cooling HVAC system you have in the home, like whether it is forced air, in-home radiant or from radiators. The fact is, there is virtually nothing like it on the market today when it comes to HVAC technology, which is why it costs about $250 per thermostat. In a large home, that can get a little pricey, but it is ideal when it comes to commercial air conditioning in Connecticut. Ultimately, it will eventually pay itself off.
Radiant Heating in Homes
Radiant heating is becoming a more efficient way to heat homes or businesses, especially in a place like Connecticut, where cold winters are the toughest time of year. Heat is applied to panels directly below the floor, and the heat rises and creates warmth. There are three types of radiant heating systems available: air-heated radiant floors, electric radiant floors and Hydronic radiant floors. The first two are not the most cost-effective for residential HVAC systems and are best for commercial applications. However, Hyrdonic radiant floors are very efficient for homes when built correctly, as the panels will be heated by hot water or with just direct electricity.
Contact W J Dornfeld for more information on Hyrdonic radiant floors and other luxury home heating options for commercial and residential HVAC systems.